Holiday Window Paintings Galore in Port Jervis
By Sherry Mohan
Courtesy Tri-State News
Nov 11, 2002, 12:47am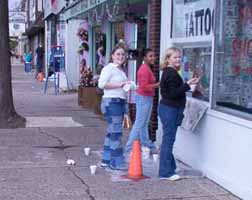 The scene on upper Pike Street Sunday afternoon found lots of kids busy decorating store windows for the holiday season. Busy at work on their painting are, left to right: PJ 7th graders Julie Hennion and Tiffany Smith, and 6th grader Kristen Hook.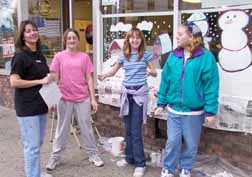 Volunteer project manager Elaine Tedesco, left, with PJ 7th grade window artists Heather Culver, Rebecca Gawenus and Brianna Cramer in front of their winter scene.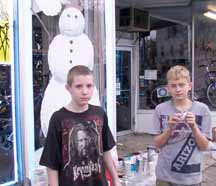 Port Jervis 7th graders Jonathan Greydanus and Adam Conklin finish up work on the snowman they painted on the window of Mataport Bicycles.
PORT JERVIS -- This past weekend marked the revival of yet another fun tradition for Tri-State area youth -- autumn window painting. Years ago, it took the form of a Halloween window painting contest, and after a long hiatus, it has been retuned to life in the form of a Holiday Window Painting Contest.

Spearheaded by Sharon and Stan Siegel, the program is being run by Elaine Tedesco, owner of Heart &Hands Art Center in Port Jervis. According to Port Jervis Councilman-at-Large Stanley Siegel, the idea to revive the event started with a Halloween goal, then grew to include Thanksgiving, and then, at the request of city businesses, was expanded to cover the entire holiday season. Latex paint was donated by Sherwin Williams and Neversink Lumber, with dropcloths and brushes donated by the Family Dollar store. Other supporters include Mayor Ross Decker, Dick McKeeby and Dick Roberts.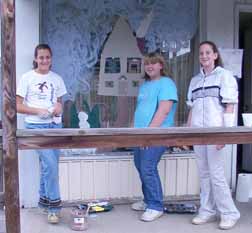 The Nationwide Insurance office on West Main Street gets its holiday painting from Port Jervis 7th graders Giovanna Steinhaus, Marissa Corcoran and Beth Schneider.

At first, teams were to be formed with at least one member being a student in the Port Jervis or Delaware Valley school districts, but due to the enthusiastic response by area businesses, the event is now open to anyone who would enjoy participating. Subject matter must be appropriate to the holiday season, and all paint and supplies will be provided by the committee.



| | |
| --- | --- |
| | |
| Completed works of art adorn the front windows of the Book Nook on Front Street. A team of eight students from Heart &Hands Art Center contributed to these appealing images. They are Jenny Bradley, Andrew Grieves, Anna & Peter Schaeffer, Nicole Pagano. | |